We use strictly necessary session Cookies under implied consent, by using this web site you agree to our Cookie Policy see Privacy Policy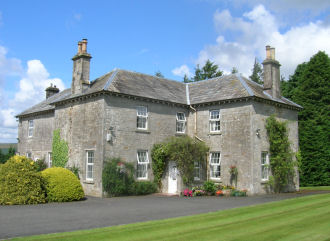 Date/Time: Country:
LOOK FOR OUR SPECIAL WINTER OFFERS ON BOOKINGS OF 2 NIGHTS OR MORE BOOKED DIRECT WITH SORBIETREES. YOU WILL ALWAYS GET THE CHEAPEST PRICE BY BOOKING DIRECT, THESE DEALS ARE NOT AVAILABLE VIA 3RD PARTY BOOKING AGENTS
Dave Hartley and Jen Slack Date/Time: 23rd February 2015 Country: Ellesmere Port
Thank you so much Sandy and John for a really lovely stay! Breakfast was superb. Will definitely be back and will recommend to family and friends. See you again soon! Love Jen and Dave xx
Welcome to Sorbietrees
Scottish Borders Bed and Breakfast accommodation at Sorbietrees is in a lovely stone farmhouse dating from the late 1700's and standing in 22 acres near Newcastleton in the Liddesdale Valley with spectacular views of the surrounding countryside. Sorbietrees was once the home of William Armstrong and principal house to a large estate, important enough to have it's name on the fingerpost (still there today) in the hamlet of Kershopefoot.  Sorbietrees is your ideal location to stay whatever the reason. Cycle the Reivers Route or Southern Borders Loop, or try out the Newcastleton 7 Stanes. Spend a day at Kielder with its famous water, forest and observatory. Visit Hermitage Castle, Hadrian's Wall, Gretna Green, Jedburgh and Melrose with their famous abbeys, Floors Castle at Kelso, or just relax and enjoy the peace and tranquillity. Quiet, comfortable bedrooms, a lounge with log fire and a generous choice of breakfasts will set you up for the day (you probably won't need lunch), it's a great place to stay whatever the reason.
We also offer B&B accommodation for horses, either stabled or at grass, so why not bring your horse for a few days holiday and explore our fantastic riding along quiet country lanes, forest tracks and moorland with spectacular views and abundant wildlife.
The village of Newcastleton (also known as Copshaw Holm) was purpose designed and built from scratch by the Duke of Buccleuch in 1792 and is now a thriving community with 2 hotels which offer evening meals, a small pub, a coffee shop, tea room with gift shop, bank and post office (limited opening), small supermarket, butchers, hardware shop, antique shop, Heritage Centre and garage  (repairs but no fuel, the nearest being Longtown, Langholm, Hawick or Kielder) Unfortunately Newcastleton has no cash point (ATM), but most businesses take debit or credit cards). 
Book on line, by email or telephone
013873 75215